Adaptive Search Engine Optimization – ASEO
Adaptive Search Engine Optimization (ASEO)
Even if you have one of the best websites available, it will not help your business much if your potential customers cannot find you on the Internet. In other words, you don't exist to them.
To help your websites being found, many agencies used various Search Engine Optimization (SEO) tactics and unfortunately, many of them shady. Sure, they have achieved a short-term success, but Google, as the main search engine, was not going to allow that to go for very long.
Google and other search engines have invested significant amounts to enhance the user experience ensuring that their users, all of us, find relevant information for their searches. Unfortunately for many companies, these algorithm changes by Google resulted in sharp fall on their rankings, decreased website traffic and resulted in tumbling sales. Without understanding reasons why they didn't rank at search engine results pages (SERPs), companies bounced around using different agencies without much success.
To ensure that your website is found online, you cannot afford to avoid correct SEO process as it will have negative impact on your business. If an agency promises first page Google rankings within weeks, our advice is to 'run' and fast! Google is updating their search algorithms 500-600 times per year roughly; no agency will outsmart or beat the algorithm. If Google suspects that you are trying to 'beat' the system, they could make your site disappear.
Since 2000, Google has updated its search engine algorithm approximately 500-600 times per year
To assist our clients with maximizing their online Return on Investment (ROI) for SEO efforts, we have worked with our partners to develop an SEO methodology that that aligns with best practices recommended by Google.
Our new methodology is designed to adapt to the ever evolving and changing search algorithms, as its name AdaptiveSEO™ suggests. This approach eliminates potential risks of penalties for using bad SEO tactics.
AdaptiveSEO™ is a safe and intelligent way to ensure your business is found online regardless of algorithm changes.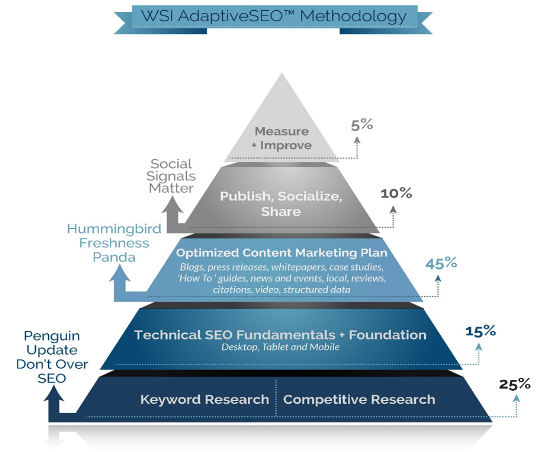 Keyword and Competitive Research
Our very first task in performing AdaptiveSEO™ for your website is to conduct competitive research and create a list of top keywords that your potential clients will search for. Keywords are a vital component of ASEO strategy because they are the factor in how Google connects websites to searches. Your pages must have content that Google sees as highly relevant to keywords your customers are searching with.
Technical SEO Fundamentals
A strong foundation of your website is a must have optimization for being found on Google, which is the main goal of SEO. It seems simple, but many websites that look awesome fail to implement Meta titles, descriptions, h1 tags etc. It is a tedious task, but a great base for the on-page SEO
Optimized Content Marketing Plan
Many of Google's algorithm changes focused on creation and publication of quality content. That is the reason why content marketing is an important step in your ASEO strategy as Google is asking business like yours to provide fresh and quality content that will help with connecting search engines with exactly what users was looking for. Planning, creating and optimizing content is a significant part of your ASEO efforts.
Publish, Socialize and Share
Creating a great content is not enough, if no one is reading it. Just as you have to use SEO strategy to be found online, you have to do outreach work and PR to extend your content to your audiences. Publishing, socializing and sharing your content will be as important as creating it.
Measure and Improve
Now that you have completed ASEO campaign, it is time to evaluate results. Just hoping for the best is not enough; you must measure and improve upon your results. Increased visits to your websites and sales are the ultimate goal, but we have to perform ASEO campaign updates to stay on top of changes and ensure steady results.